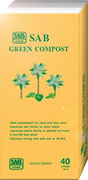 SAB GREEN COMPOST ls a compost produced from green waste materials; It is processed aerobically under high standards to produce quality product free of harmful diseases, seeds and insects.
It is best used when mixed with peat or clay or sand soils at the rate of 10-30%.
It can be used successfully for vegetables and palms and for all indoor plants, balcony plants and patio, except for acid loving plants.
SAB GREEN COMPOST provides ideal conditions for healthy, strong plants and plentiful of blossoms.